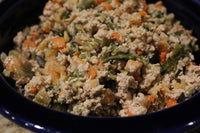 Helping people make healthy food for special needs or just very special dogs.
Enter promo code newcustomer at checkout to get 20% off your first order.
About K9 Food Balancer - Our Delicous DIY Kits
Make it yourself with confidence. K9 Food Balancer is the perfect DIY option for making nutritionally balanced, homemade dog food at a fraction of the cost and time that it would take to make it from scratch.
Paws Cafe has been making dog foods since 2007. We have a wealth of knowledge about the types of disorders many dogs encounter and we know how our fresh food diets can result in positive changes to their health. K9 Food Balancer is an economical, quick-start, DIY kit. The kits are a simple "add meat & water" homemade dog food solution that you can make in less than 30 minutes.  Each kit includes instructions, diced dried vegetables, supplements, and excellent customer service should you need any help along the way.
K9 Food Balancer takes the worry and work out of making healthy homemade dog food! 
K9 Food Balancer - DIY Kit Choices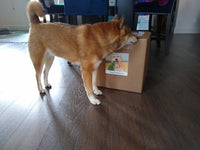 Paws Fresh Food Options
If you don't feel like making it yourself, that's ok too. Try one of our core diets or request a custom low protein, low purine, low oxalate, ultra limited, or low carb diet. We offer complete and balanced fresh food diets, delivered frozen right to your doorstep at no additional charge*. We even offer recurring shipping for the ultimate in convenience.
*Free UPS ground shipping is limited to WA, ID, MT, ND, SD, MN, WI, IA, NE, CO, WY, UT, AZ, CA, NV, and OR customers.
Selecting the right food for your dog
We offer five different formulas to meet your dogs unique needs.
1) Our Healthy Dog Kit is a 40% meat based diet (approx 30% protein) with a full mix of healthy vegetables.  This is a great staple diet for all healthy dogs; including puppies.

2) The Ultra Limited Formula is also a 40% meat based diet; only with fewer vegetables.
3) The Low Protein Formula is a 25% meat based diet with a full mix of vegetables.  
4) Low Oxalate Formula is a low oxalate, 25% meat based diet (approx 19% protein).
5) Low Purine Formula is a low purine, 25% meat based diet.
These diets can be shipped prepared (frozen) or as a kit. Not sure?  No worries, chat with us now!
What makes our diets better
Truly fresh, homemade diet

Quality protein - Use the same meat that you feed the rest of your family. 
Healthy carbs - Our diets are grain-free and only contain nutrient rich vegetables for the vitamins, minerals, and fiber that your dogs need.
Superior fatty acids - Our high quality essential fatty acid source, organic hemp seed oil, is known for its proportionally correct amounts of Omegas 3's and 6's, its natural vitamin E, and a full range of amino acids and essential minerals that our dogs need.  It does not contain CBD or THC.   
Quality minerals - Organic kelp and calcium citrate is added to our supplement mix to meet your dogs essential mineral needs. Calcium citrate is particularly beneficial with dogs that form stones as the "citrate" reduces the amount of calcium that will accumulate in a dogs urine. 
Balanced nutritionally - All of our diets include natural Vitamin E and Vitamin D3. B vitamins are also added to ensure adequate amounts of these essential and beneficial nutrients. We also include taurine in all of our diets.
We pride ourselves on building lasting relationships with our client friends and always encourage open communications.   You can meet a few of them on the Happy Customers page of our News & Updates section. If you don't see what you are looking for or you just aren't sure. Please don't hesitate to ask.


About Us
Paws Cafe Corp was established in 2007 by Canine Nutritionist, Shelly Christensen.  Being one of the very first "whole food" pet food manufacturers in the US, our foods and our level of service heavily influenced this industry.  Many have tried to copy us over the years but very few have come close to our quality of product or our commitment to service. 
We focus on listening first, and then educating our clients on the best possible diet for their dogs.  
Our family's Montana ranch is dedicated to the welfare of all dogs, and also those of our other "pet" livestock; many of which are rescues. Your business makes all of that possible and we sincerely thank you for your support.
When we aren't making food or tending to other chores on the ranch, we're usually down by the river near home with our three awesome pups!  ~ Charlie (3), Goldie (9), & Bentley (14)
We hope to hear from you soon -
Shelly Christensen ~ BSc, Dipl. CN