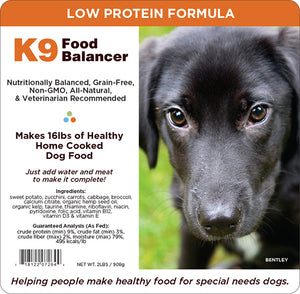 K9 Food Balancer - Low Protein Formula
There are a variety of health conditions that can be managed by feeding a low protein diet. Kidney or Liver disease and pancreatitis are common medical concerns where a low protein diet may be beneficial. Most commercially available low protein diets contain large amounts of starchy carbs making them highly inflammatory, unhealthy and fattening. They can also alter the dogs PH level to be too alkaline resulting in struvite crystals and UTIs and cause muscle wasting due to the lack of quality proteins.

K9 Food Balancer Low Protein Formula was formulated to include sufficient amounts of protein to maintain a healthy and food motivated dog with mild to moderate liver or kidney disease. Depending on your meat selection, this diet is approx 25% protein (DM) and contains the bare minimum amount of essential phosphorus determined by the AAFCO for All Life Stages. There are no toxins, chemicals, artificial or other inflammatory ingredients in any of our foods. The nutrients in our whole food diets are easily recognized and absorbed to support overall health when it's most needed.

Diet Specifications (Analysis based on averages using lean ground chicken, turkey and beef)


- Ingredients: sweet potato, zucchini, carrots, cabbage, broccoli, kale, calcium citrate, organic hemp seed oil, organic kelp, taurine, thiamine, riboflavin, niacin, pyridoxine, folic acid, vitamin B12, vitamin D3 & vitamin E.

- As Fed Analysis: Protein (min) 9%, Fat (min) 3%, Fiber (max) 2%, Moisture 79% (max), 495 kcals per pound*