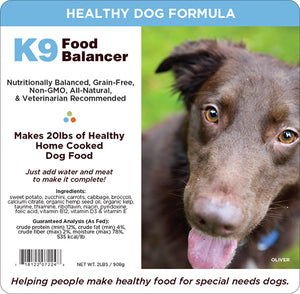 K9 Food Balancer Healthy Dog Formula
Do you want the very best nutrition for your dog? By now you you've realized that it's not going to come in a can or bag of dry dog food. Your dogs health depends on quality ingredients to ensure that he develops properly from the time he's a puppy. With your love and care and our Healthy Dog diet his immune system and bones will grow strong, his coat to be silky and soft, he'll age gracefully maintaining a good body weight, clean teeth, and healthy joints well into old age. You'll never grow tired of seeing how excited he is every time you set his food down in front of him!
Diet Specifications  Analysis based on averages using lean ground chicken, turkey and beef


Ingredients: sweet potato, carrots, zucchini, broccoli, cabbage, kale, calcium citrate, organic hemp seed oil, organic kelp, taurine, thiamine, riboflavin, niacin, pyridoxine, folic acid, vitamin B12, vitamin D3 & vitamin E.

As Fed Analysis: Protein (min) 12%, Fat (min) 5%, Fiber (max) 2%, Moisture 77% (max), 545 kcals per pound*